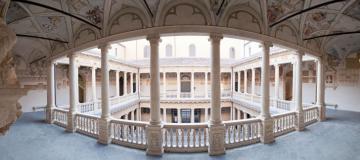 Fedora Stojkoska-Hristov (EFCM 2015-17), Global New Product Development Manager at Patchology company in the U.S talks about her professional role and experience
Fedora Stojkoska-Hristov
EFCM-MBM graduated student (2015-2017)
Bachelor's degree in Biomedical Engineering at the State  University of New Jersey (2012)
Fedora Stojkoska-Hristov is an EFCM-MBM graduated students from the promotion of 2015-2017.
She started working as a Global New Product Development Manager at Patchology company in the U.S right away after finishing the second year teaching period of the EFCM program in Padova.
Current EFCM-MBM group had the opportunity to get to know Fedora through a Skype meeting. She shared with them a lot of precious information about her experience and especially about what exactly a NPD manager does.
Fedora started emphasizing, "she has gained so much from EFCM. The EFCM program is perfectly designed to match the needs of a Product Development role and gives students a unique advantage for this kind of Work."
She had chosen "New Product Development in Small-Scale Organizations in the Beauty Industry" as the subject of her final project work (thesis). This thesis explicates the workflow and strategies, which allow small startup companies to get off the ground and stay afloat as they are generally handicapped both in terms of in-house expertise and budgetary constraints. In particular, a functional organization is crucial due to the small size; sub-contracting various expert tasks poses multiple questions about trade-offs (e.g. easy of task management via a turn-key contractor vs flexibility of multiple contractors); finally, timely understanding of necessary tests is imperative to prevent wasted efforts.
During the meeting Fedora talked about "Types of Product Development" and showed in a clear way the functional organizational chart explaining all the departments, which are involved in developing and launching a new product listing also some main Turn-key services that the NPD department needs to receive in order to complete its multiple tasks. Smaller the company, the more this department wants Turn key service.
She covered in depth all the steps of the Product Launch Process focusing on the product development cycle and NPD's role in it using the following diagram:

Fedora then added that launch happens 2-3 months after the NPD manager has done the work/ leaving manufacturing. When going to launch, she/he has to educate marketing on what they should say: to sales – how to present to consumer and retailer; to customer care – what they will deal with, questions that may rise; to PR – tell story to PR who then tells story to magazines.
She also mentioned that As NPD, very easy to start own company, cause every company has to go through this process. NPD gives you all the tools to be entrepreneur and launch your own company.
Before ending Fedora answered also, the students' questions and curiosities that made this meeting even more useful to them.
Here are the questions:
How many people coordinate during PD process?
It is organization and project specific. For smaller organizations it is a minimum of 10, max. 20-25 individuals. The goal is to reduce complexity, which can lead to miscommunication, so direct interaction gets as streamlined as possible; you are never going to be in communication with more than 2 persons per department for each task.
Assessing the feasibility of startup (in terms of choosing to work for one or not).
Doesn't matter if startup fails; the benefit of working for a startup is that you will wear many hats, more gain more exposure. In a large company, you responsible for less, have less control and everything slows down. Input – responsibility go hand in hand.
 Legitimacy of a startup – some tips for an internship/job interview?
Check social media, published articles, interviews and background on founders. You can also reach out to them with questions. Keep in mind not to contact the CEO or VPs - unless you know the organizations is extremely small – they are trying to run a business and they are busy.
At interview, ask about size, structure, responsibilities, goals for future; will be able to determine if they know what they're doing, their vision etc.
 What are your future goals?
Learn as much as I can. Get exposure – launch own company in the future. 
 Can you work as a formulator and NPD?
NPD is the only position that links the R&D and marketing worlds. With NPD you will have exposure to R&D, will be in lab a lot and you are equipped to do so, but it is not possible to do both. At a smaller company, during your internship, if you want to experience both, ask HR to split time your time between R&D and NPD/ Marketing.
 Can you go back to formulation?
Yes, but you won't be starting at the same level as you NPD job, because you have missed x amount of time in the development of your formulation experience.
 Assets required for NPD?
Main selling point: you have more education with two masters than any other person applying – Master in Formulation and MBM. You understand finance, consumer behavior, marketing, therefore you have all the knowledge to do your job, and everyone else's. Trained for science and creative roles but with NPD, staying in middle.
 Problem and issues in this role?
Communication. Without an NPD team, departments do not understand each other – misunderstanding and frustration. In NPD, you understand limitations of science, and marketing, you can eliminate problem of lack of communication and miscommunication – this is your selling point, you are perfect equipped to take care of job.
She advised the students to focus on figuring out what they want to do with career. Do not search for only internship, but search for low level jobs. In NPD, there are not many internships but there are coordinator opportunities available – which the EFCM graduated, will be qualified for.